More and more people prefer restorative yoga these days, and it's easy to see why. Having the best yoga bolster for your yoga activities can help you attain your goals faster!
Yoga does not only promote mental relaxation, but it also helps you attain proper posture and paves the way for attempting newer and sometimes tougher positions.
However, unlocking the full benefits of restorative yoga might be difficult unless you have the right yoga bolster. Available in a wide range of shapes, sizes, and firmness and made from a variety of different materials, yoga bolsters are available to suit the needs of yogis of all kinds.
We've rounded up 8 of our top picks in the yoga bolsters reviews and included a handy guide. Let's get started!
Busy? Jump right into our reviews here:
Best Yoga Bolster Reviewed:
What Positions Can Be Used With Yoga Bolsters?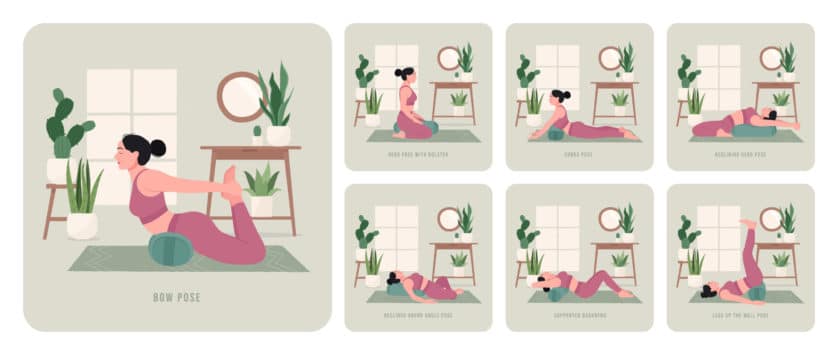 There are many positions you can use a yoga bolster with. Check out the handy guide above for 7 example yoga poses you can use the yoga bolster for.
Different Yoga Bolster Types
There are four main types of yoga bolsters — rectangular, round, meditation, and pranayama. Before you choose one of these types, consider your bolster's intended usage.
Once you've decided on the shape of the yoga bolster, you should also consider your weight and height when deciding on its size.

Rectangular Yoga Bolster​
Most standard yoga bolsters are rectangular, and they are the most popular as they offer the most versatility. Flat and wide, these yoga blocks provide ample back support and lift.
If you are inclined towards forward bends and seated yoga positions in particular, you should consider rectangular yoga pillows.

Round Yoga Bolster​
So named for their distinct cylinder shape, round bolsters are best for those who prefer heavier and longer bolsters. A round yoga bolster will help to elevate your spine while your arms and shoulders relax.
You can also use a round bolster under your knees or in seated postures. However, round yoga bolsters are best suited to more experienced yogis who do not struggle with stability.

Meditation Bolster Pillow
Also called zafus, meditation bolster pillows differ from bolsters in that they are actually cushions. They work best if you wish to elevate your hips while your back is straightened, although they are also good for seated positions.
Meditation bolster pillows usually have a round shape, although you might find some that are V-shaped or square.

Pranayama Yoga Bolster
Pranayama pillows are similar to rectangular bolsters but have a thinner and longer shape. They provide ample cushioning and support when you are in a kneeling or backbend position.
Pranayama bolsters are also ideal if you need to have your chest slightly elevated.
Important Features We Look for in This Review
Here are the factors we considered while selecting our yoga bolsters. Remember, the best yoga pillow differs from one user to another, so be careful to consider all the following aspects:
Cover Material
Covers of yoga bolsters may be made from a variety of natural materials, such as hemp or organic cotton.
Such materials are best for sustainable comfort; synthetic materials might cause the bolster to be difficult to work with, even if they are cheaper. Plus, an organic yoga bolster will be kinder to your skin and hair as well.
Filler Material
The bolster's filler material is also an important consideration. Foam and polyester are the most common options due to their firmness, despite being soft and lightweight. Buckwheat is a good option for filling yoga bolsters if you prioritize softness.
Firmness
Your yoga bolster should obviously be firm enough to ensure your support and stability in different postures.
That said, cushioning is also important for your comfort, especially if you're practicing restorative yoga.
Best Yoga Bolster Reviewed – Top Pick
The AJNA Yoga Bolster Pillow stands out to us out of all of the others we have reviewed. It is built with completely organic and eco-friendly materials, and its rectangular shape makes it suitable for use by yogis of varying skill levels.
Its recycled solid foam core is soft, comfortable, and promises to retain its structure through years of yoga!
Ready to step up your yoga game? Here are our top picks for the best yoga pillows selected just for you.
Best Yoga Bolster For Experienced Yogis
1. Gaiam Yoga Bolster Rectangular Meditation Pillow
Check Latest PriceThe first yoga bolster pillow we have selected for your consideration is a highly rated rectangular pillow from Gaiam.
Equipped with an ultra-comfortable microfiber polyester cover, this is one of the most sought-after rectangular pillows for restorative yoga.
What makes this yoga pillow so popular is its filling of soft cotton batting. As an all-natural filling, cotton is not only comfortable but safe to use as well.
The large dimensions of the pillow let you get the support you need during your yoga postures without straining your back.
We also love the convenient design of this thing: it comes with a sturdy handle, which allows you to transport it easily to and from your yoga class.
And when your yoga cushion starts getting a little smelly, cleaning it is easily done as well, thanks to the removable cover, which is machine washable.
2. AJNA Yoga Bolster Pillow
Check Latest PriceIf you love doing yoga and you love the environment, you'll love this versatile offering from Ajna.
This rectangular bolster pillow is the ideal choice for those just starting out on their restorative yoga journey and those still learning its ins and outs.
This is an amply sized yoga bolster equipped with a cover made from ethically sourced organic cotton or suede, resembling upholstery grade fabric.
If you struggle with pressure on your joints or are seeking lumbar relief, you really can't do much better than this Ajna bolster right here.
What sets this yoga bolster apart, according to Ajna, is their rejection of conventional pillow fillings such as cotton batting and buckwheat.
Instead, they've filled this bolster with dense layers of recycled foam, which offer superior durability as well as formability.
Cleaning this yoga bolster is super easy as the suede cover can be removed effortlessly.
Although this yoga cushion is not machine washable, that is only to preserve the pillow's shape over long periods of time.
Check Latest PriceWe have another rectangular bolster pillow for you, and this one is available from Victorem.
If you're on a budget and looking for support during warm-ups, asanas, or physical therapy, this might be what you're looking for. Here's what we like about it.
To begin with, this bolster comes with not one but two covers which can be swapped out and used according to your needs. Both covers are made from high-quality suede acquired from eco-friendly sources and resistant to dirt.
What's more, the covers can be machine washed (although this should be done carefully). The pillow is also supremely portable, thanks to the inclusion of a convenient carrying strap.
We love the inner filling of this bolster, which is made from high-quality 40D foam. A single layer of this foam has been used in the making of this bolster's filling, which gives it a sturdy structure that retains its shape easily, no matter how frequently you use it.
The tough zipper also holds its own no matter what yoga postures you throw at this thing.
Best Yoga Bolster For Beginners
4. Retrospec Sequoia Yoga Bolster
Check Latest PriceWhile we're talking about budget-friendly yoga bolsters, it would be a crime to skip this cotton yoga bolster from Retrospec.
Reasonably priced yet boasting enviably high quality, this round yoga pillow is a perfect choice if you want to relax and relieve tension.
What we love most about this round bolster is its multifunctionality. When you're not using it as a yoga block, it doubles easily as a pillow.
That's no surprise, given how soft this thing is, which in turn owes itself to the pillow's 100% cotton filling. Although it's a pretty standard bolster, it not only promotes relaxation but improves your posture in various asanas.
The shape of this cotton yoga bolster also makes it suitable for carrying out deep stretches and asanas with bent postures. Moreover, it comes with a built-in handle which will allow you to transport it with ultimate ease!
5. NGT New Guide Steps Yoga Bolster Pillow
Check Latest PriceWhether it's for yoga or simple relaxation, or meditation, this next pick from NGT is going to fulfill your needs without breaking your bank.
Crafted from layers of high-density foam, this pillow stands out from others that use buckwheat or cotton batting and are prone to deformation.
Lumbar relief and joint pressure are two of the most common complaints about those who are interested in taking up restorative yoga.
Well, this pillow might be the perfect choice if that sounds like you.
Its large size and straightforward design make it easy to relieve stress whether or not you're doing yoga practice, and its stiff yet soft filling provides ample support.
Not to mention, if you love the environment, you should certainly opt for pillows like this one for which recycled materials have been used.
It's safe for you, too, since it's not formulated with any toxic solvents or chemicals. Its ergonomic design also makes it easy to carry.
Do note; however, the pitfall of most cheap yoga bolsters is their relatively short durability.
This bolster will serve you well for a few years, but don't be surprised if it starts to disintegrate thereafter.
Check Latest PriceNext on our list is a beautiful yet simply-designed pranayama bolster from Sevens.
Boasting a concentrated core made of high-density recycled foam, this cushion is one of the most stable and durable we've come across during our research of the best yoga bolsters.
And what's very exciting is that it comes with two covers: one made of a cotton-linen blend, and the other eco-suede.
But how does it perform? Consider the ergonomic design of this standard bolster, which boasts generous dimensions of 5.5″x9.84″x25.6″.
The ample surface area of this large yoga bolster, coupled with the cushion's unparalleled softness, will allow you to adjust easily to a perfect posture without experiencing any discomfort. From deep breathing exercises to more intensive asanas, this bolster can help you do it all.
Besides, it's lightweight and portable build also makes this one of the best yoga bolsters for the busy yogi who is always on the move. And when it's not being used as firm support during yoga, this pillow can easily be used as a neck roll cushion.
Best Yoga Bolster For Meditation
7. Sportneer Yoga Bolster Pillow
Check Latest PriceThe sturdy foam core of this bolster makes it possible for you to perform your usual yin yoga and do the restorative poses that will give you relief from that terrible back pain.
Now, although Sportneer claims that the bolster is good for prenatal yoga, we would recommend taking this with a pinch of salt.
The bolster has not proven to be quite effective for the extra weight that women gain in their last trimester. So, proceed with caution if you're thinking of doing yoga with this while pregnant.
But keeping this one setback aside, the bolster performs to our satisfaction; it provides good value for money compared to other yoga pillows we've come across.
The foam core is firm, sturdy, and made with mixed density recyclable fibers that make it durable and strong enough to withstand deformation. So it's as friendly for your back as it is for the environment.
The rectangular shape of the pillow will help to expand your chest and to perform back opening exercises.
You will also get a slight lift on your legs when you are bending forward – this will help you stabilize and hold positions for longer periods.
8. Peace Yoga Meditation Buckwheat Bolster Pillow Cushion
Check Latest PriceOur final pick is also one of our favorites. The crescent shape of the pillow allows it to be versatile enough to be used as a yoga block that you can comfortably stretch on.
It also holds your body in a position from which you can stand up and/or shift yoga poses without putting much pressure on your joints and back muscles.
This pillow measures 18 x 9.6 x 5.7 inches, which provides adequate space for proper back and spine support.
Like so many of the best yoga bolsters, this one is filled with buckwheat hulls. Concerned about that annoying heat retention problem with regular bolsters?
Well, buckwheat Hulls won't give you any such trouble because they don't reflect heat back to your body while you're doing your yoga practice.
Furthermore, there is a zipper on the pillow that you can use to adjust the buckwheat hulls inside according to your preferred firmness.
And when needed, you can pull off the outer case of the pillow and send it out for a good wash too.
Frequently Asked Questions
Why should I use a yoga bolster for yoga practice?
Yoga can be uncomfortable for some in certain positions; in such situations, a yoga bolster can come in handy. Most importantly, yoga bolsters are required for restorative yoga practice.
What are the benefits of using yoga bolsters?
Yoga bolsters are props that help you to unlock the full benefit of certain yoga positions.
The best yoga bolsters create a relaxed feel while softening your posture and are available in various shapes to suit the needs of different people.
What exactly is restorative yoga?
Restorative yoga is focused on mental and physical relaxation. It not only enhances your flexibility but allows you to recover mentally, decreases stress, improves sleep, and balances the nervous system. Yoga cushions and yoga mats are required for proper restorative yoga.
How do I keep my yoga bolster clean?
The best yoga bolsters come with a removable cover which should be washed regularly in cold water, especially if it's a cotton cover. Hang-dry your yoga pillows instead of putting them in a drier to avoid shrinkage.
Should I pick a soft yoga bolster or a firm one?
If it's for the purposes of restorative yoga, you should choose a firm yoga bolster. If it's too soft, you might lack adequate height or support, in which case you'll have to add extra towels/blankets.
Final Thoughts
Yoga bolsters are one of the most sought-after yoga accessories. It's not only that the best yoga pillows increase comfort; they can help relieve joint stress and help you steer clear of lumbar problems.
Our top pick is, of course, this one from Ajna, and our budget pick is undoubtedly the Peace Yoga Meditation Bolster Pillow, which affordably offers all the benefits of a good bolster.
We wish you much peace and good health.