Choosing the best air purifier for bedrooms to help you breathe clean air is important; It not only affects your physical health, but you also get the mental benefits from getting a good night's sleep.
Most people don't realize how polluted the air is that they are breathing – especially when sleeping. Air pollution indoors can be a serious problem.
Having an air purifier in your bedroom can make the air cleaner, helping you make the most of your sleep time and reducing exposure to any allergens present in your bedroom.
Suppose you live in an area with high levels of airborne contaminants or heavy traffic near your home. In that case, this is especially important – but even if you live somewhere further from the urban life, poor bedroom indoor ventilation can lead to dust accumulation, leading to poor air quality.
Aside from removing dust particles in the air, air filters can reduce smoke particles, relieve seasonal allergies, or even for a pet owner dealing with pet fur.
Best Air Purifier Reviewed
What are the important features when buying an air purifier?
In the past, the only concern people had when buying an air purifier was how much it costs. All modern air purifiers have a variety of features. These features include a unique design, washable filters, or replaceable HEPA filters.
Since you are investing in your health, quality is more important than cost when purchasing air purifiers; here are some factors to consider when choosing the best air purifiers.
Air Volume Coverage
Your air purifier's clean air delivery rate depends on the air volume coverage that your air purifier can. This is usually measured in square feet.
A good air purifier should suit the size of your room – Units with a clean air delivery rate below 200 square feet are suited for smaller rooms, while units above 300 square feet are suitable for bigger rooms.
Having an air purifier strong enough to circulate the air in a large room is important. Using small air purifiers will not effectively provide enough air purification in bigger bedrooms because it simply cannot move the air fast enough.
Fan noise
Another factor to consider is the fan noise from the unit. Units with a high air volume coverage will most likely also make more noise because they have stronger fans.
Most air purifiers have different fan speed control. Running it at the highest speed is not recommended because the noise level can get pretty high. Operating it at low speeds will reduce the fan's noise level but lower the airflow rate and cleaning power.
Most people turn on the sleep mode while sleeping for quiet operation, but if you actually want the noise, the fan of air purifiers can also be used as a white noise machine while you sleep.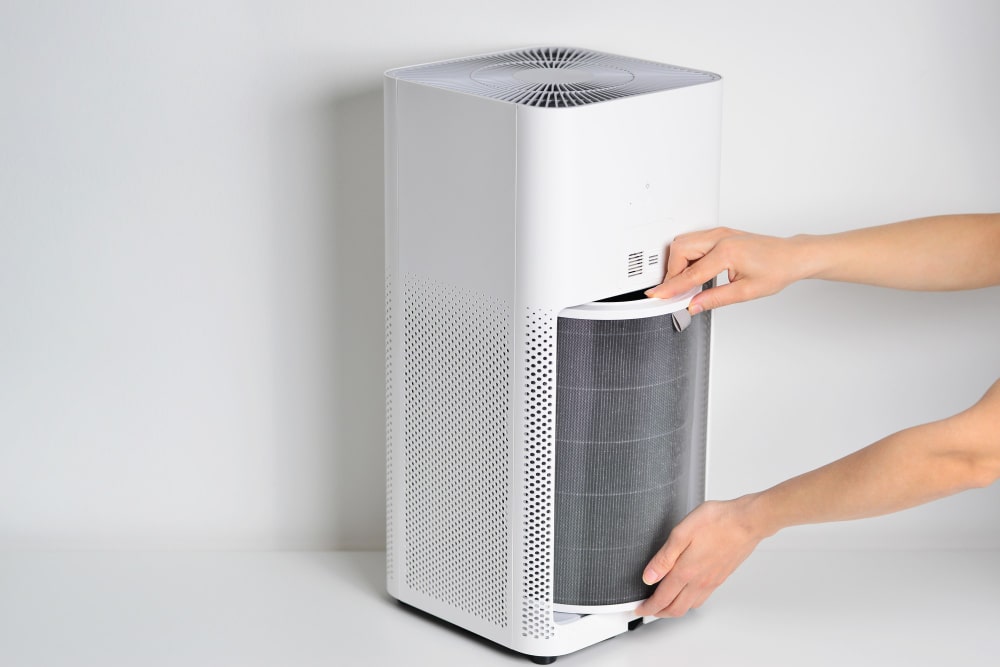 Replacement filters
Depending on your unit, the filters inside your air purifier will need to be replaced once every 6-12 months. Filter replacement is an ongoing operating cost, so it's important that you choose a unit with affordable filters.
Many modern air purifiers have eco-friendly washable HEPA filters instead of disposable ones typically used in air purifiers and other appliances such as vacuum cleaners. This can save money in the long run.
Type of filter
Not all air purifiers are alike. The standard air purifier comes with a true HEPA filter, which can effectively remove fine particles in the air, even when they are smaller particles like pet dander.
Many HEPA air purifiers also come with charcoal filters or an activated carbon filter that helps remove fine dust particles while removing odor at the same time.
There are usually multiple layers of filters in an air purifier.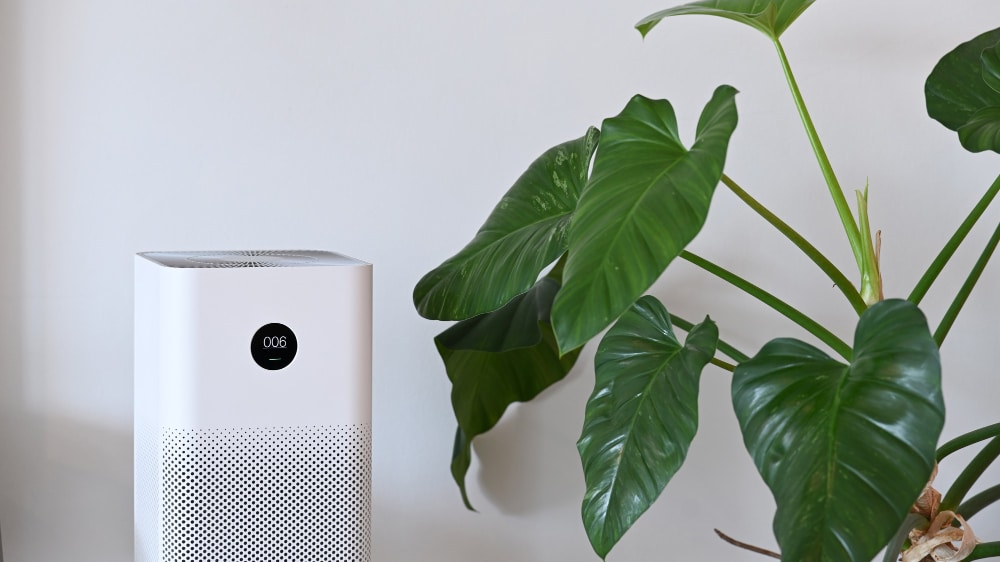 Best Air Purifiers Review
Now that you know the important features in choosing the best air purifier, we have reviewed the many purifiers in the market so you can enjoy the best air purification today.
Best Air Purifiers With Washable Filters
Since air purifiers reduce the number of air particles, the dust and air pollutants accumulate in the air purifiers filter. Once the HEPA filters are full, the filter's efficiency to purify the air is reduced until a replacement is used. The operating costs for air purifiers can be reduced drastically by getting one that has washable filters. Note that most of these are washable pre-filters, and you still have to get a replacement for the main filter.
1. Blueair Blue Pure 411 Air Purifier
Check Latest PriceBlueair Blue Pure 411 Air Purifier is the perfect air purifier for those who want to protect their family from harmful allergens and odors.
This unit features three-part filtration, an activated carbon filter that removes odor, and a washable pre-filter that removes dust and pet hair. The device also has low noise with high airflow and captures particles as small as pm 2.5.
The Blueair Blue Pure 411 Air Purifier can be used in rooms up to 175 square feet, is suitable for people with allergies or asthma and comes in multiple colors, including dark blue or grey pre-filter color.
The 360-degree air inlet means you can place the air purifier anywhere in your room without worrying about the lack of airflow.
2. Homedics Air Purifier
Check Latest PriceIf you suffer from respiratory problems from allergies or asthma, the HoMedics TotalClean Tower Air Purifier could be a lifesaver. This machine can help remove airborne particles and allergens as small as 0.3 microns in size.
This air purifier uses a 5-in-1 filtration system with 5 different filters, including the standard pre-filter, HEPA filter, and carbon activated filter. Furthermore, it includes an ionizer that electrically charges the air particles to remove particulates and odor in the air!
Not only that, but the HoMedics Air Purifier also has a UV-C light that kills bacteria, viruses, and mold for cleaner air quality. This air purifier can even be used with essential oil pads on the unit to create relaxing aromatherapy.
The HoMedics TotalClean Tower Air Purifier is available in multiple sizes. It is suitable for rooms ranging from 170 square feet to 343 square feet and has 5 different speeds and a built-in timer.
Jam-packed with features, this HoMedics Air Purifier is great for those with allergies or respiratory problems.
Best Small-sized Air Purifier
3. Holmes Small Desktop Air Purifier (HAP242B-U)
Check Latest PriceWant an air purifier that filters air well without taking up much space in your bedroom? The Holmes Small Desktop Air Purifier is for you!
It features a small size that is perfect for use on a table or desktop, plus a dual position design placed in vertical or horizontal orientation.
This compact air purifier also offers a HEPA filter and activated carbon filter to filter out airborne particles and allergens and an optional ionizer add-on that can chunk airborne particles into larger particles to assist air purification.
There are 4 available filter replacements:
Odor Eliminator eliminates odor from your household from pets, smoke, cooking fumes, etc.
Total air for those who live in a dusty environment as it reduces dust particles by up to 99%
Allergen Remover helps allergy sufferers relieve congestion by removing pollens and other allergen air particles in the room.
Performance Plus is the best overall option to remove odor, dust, allergens, and pollutants.
Best Air Purifier with Smartphone Application
4. LEVOIT Air Purifier With Phone App
Check Latest PriceIf you are looking for a smart air purifier, you can control it remotely through your smartphone or smart home devices; this is another Levoit Air Purifier that made it to our best air purifier list.
The LEVOIT Air Purifier uses a HEPA filter that gets rid of smoke, dust mites, pollens, as well as odors from pets and other air pollutants. The filter is an activated carbon filter to get rid of any floating air particles.
This model is slightly smaller than the LEVOIT air purifier we reviewed above, which means it is less expensive and still provides the same benefits. It covers a medium-sized room up to 183 square feet.
It operates at a quiet 24db and comes with an ultra-fine nylon pre-filter, making this model more efficient and easier to use. The LED display can be switched off for those who prefer dark rooms or are sensitive to light.
The best thing about this is the smartphone, or smart home device integration, with a phone app that alerts when it is time to change the filter.
The Levoit Air Purifier for Home is compatible with Amazon Alexa, Google Assistant through voice control, making this air purifier even more convenient than other models on the market today.
5. The Xiaomi 3H Air Purifier
Check Latest PriceThe Xiaomi 3H Air Purifier is a great air purifier that is easy to use and gently improves your air quality. With a 3 layer design, this air purifier can remove 99.97% of air pollutants in your room.
It has an auto mode that utilizes the built-in particle sensor to raise fan speed if pollutants are detected in the air. With its 360-degree air intake, it can remove air pollutants from all angles.
This Xiaomi Mi Air Purifier can be controlled using their phone app or using the touch control panel on the device.
Easily connect the air purifier to your WiFi and control the device from your smartphone, anywhere, anytime. The phone app is simple and intuitive while being able to set complicated schedules.
In addition, it has a large LED display that is easy to read and has low energy consumption, so you don't have to worry about your electricity bill going up.
Best Air Purifiers For Large Bedrooms
6. Honeywell Air Purifier
Check Latest PriceHoneywell Air Purifiers are known to be efficient and durable. If you need a reliable air purifier, you will not regret getting this one!
This Honeywell air purifier has an integrated HPA300 HEPA air filter suitable for large rooms up to 465 square feet and captures up to 99.97% of airborne particles. The Honeywell Air Purifier is also suitable for dust mites, pet dander, and allergens.
It features easy-to-use buttons on top of the air filter that allows you to set the auto-off timer function, has a light dimmer control panel, and indicates when you need a new filter.
Besides the conventional fan speed controls, this 4-speed fan includes the Turbo Clean mode that is super strong if you need an instant air cleaner.
This product also features the Energy Star label, which meets strict energy efficiency standards, decreasing energy consumption.
7. Alen FLEX Air Purifier
Check Latest PriceThe Alen FLEX Air Purifier is another convenient product for those who want to purify the air in their home and is ideal for rooms up to 700 square feet, including bedrooms and basements.
A study has been conducted, and this air purifier has been proven to improve sleep quality by improving air quality in the bedroom.
The Alen FLEX air purifier features HEPA filters that remove 99.99% of bacteria, viruses, and particles larger than 0.1 microns from the air. Being a true HEPA filter, it lasts 3-5 months longer than conventional filters.
With four different fan speeds, and the option of turning off the LED light, this air purifier adapts to different users and their needs. The low power consumption of this air purifier leads to cheaper electricity bills.
This product is great for improving sleep quality and has a bonus pink noise generator for those looking for a white noise machine to sleep better.
Best Air Purifiers For Pet Owners
Do you have a pet and seem to always sneeze when you're at home? You may need to get an air purifier. Pet dander and pet fur can float in the air and reduce the air quality, irritating your nose whenever you get home.
Here are some air purifiers that can remove dust and pet hair in the air.
8. LEVOIT Air Purifier
Check Latest PriceThe LEVOIT Air Purifier is the best air purifier you can get to improve your indoor air quality. The true HEPA filtration helps remove 99.97% of all dust and smoke and relieves allergies by removing the pollen and molds from the air.
Besides that, the air is further purified using the carbon filter to remove odors from pets, smoke, and vehicle emissions if you live close to highways/major roads. This is thanks to the three layers of filters: pre-filter, True HEPA filter, and high efficiency activated carbon filter.
It has adjustable fan speeds and produces very little noise for those who like to sleep in a quiet space. The LED light containing the filter replacement indicator can be turned off if you prefer it to pitch black when you sleep.
The great thing about this LEVOIT air purifier is that there are 3 replacement filters to pick from;
Original for multi-purpose air purifying
Pet filter for pet hair and pet dander
Toxin Absorber filter for air pollution from vehicle emissions
The LEVOIT Air Purifier is both Energy Star, and FCC certified, making it great for the environment while also being safe to use.
9. Winix HR900 True HEPA Filtration Air Purifier
Check Latest PriceThe Winix HR900 True HEPA Filtration Air Purifier is a great choice for those looking to purify the air effectively in their homes, offices, or other indoor areas where they often spend time, especially for pet owners.
This Winix air purifier has many features that help you get cleaner air at home; The first is that it has 5 layers of replaceable filters, including a pet filter that captures pet dander, pet hair and absorbs odor.
The second is its washable pre-filter that removes large particles from the air before they have the chance to become trapped in the HEPA filter.
Then comes the advanced odor control carbon filter, its True HEPA filter, and finally, the unique PlasmaWave technology which destroys odors and other airborne pollutants at a microscopic level. 
The high-efficiency air purifier is suitable for rooms up to 300 square feet and effectively reduces pollen, pet dander, dust mites, mold spores, smoke, and other common allergens that can trigger allergies or asthma.
With all these features combined, this air purifier delivers great value-for-money for anyone always getting a stuffy nose with their pets around.
Where to place air purifiers in your room
The placement of air purifiers is important to ensure air pollutants are effectively being filtered out of your room. The best placement for air purifiers varies from individual homes.
Here are some tips on the best placement for your air purifier:
Avoid putting an air purifier in corners

– this will cause airflow problems as dust can easily accumulate and block up filters more quickly than other areas because no fresh currents reach them from any direction.

Reduce clutter around an air purifier – furniture, clothes, or other objects can reduce airflow and make the appliance work harder than necessary to keep your home's atmosphere clean and healthy.
Place near a window or door encourages airflow and better distribution of purified air around the room, reducing pollutant concentration in particular locations.
Place close to pollutant source – if you are trying to eliminate pet odors, for example, from a litter box, placing the air purifier close to the source ensures the purifier cleans the air quickly.
Final Thoughts
Air purifiers are great for reducing the amount of dust in your home and making it a healthier place.
Depending on what you need from your air purifier, various models are available for purchase that will suit different needs.
This article has provided some helpful tips about finding the right one for you and where to place them around your home so they can effectively filter out pollutants from the air.
With these considerations, now you're armed with everything you need to keep those pesky allergens at bay without breaking the bank!
FAQs
1. Do I need an air purifier?
An air purifier is optional but can help greatly improve the air quality in your bedroom. Breathing clean air while you will allow you deeper rest.
We highly recommend it, but you might not need one if you do not wake up with congestion.
2. Can I vacuum my air filter?
While it may look like it's removing all the dust, vacuuming air filters only removes the outer layer of dust. The inner parts of the filters are still full of dirt. This is not recommended as vacuuming can damage the filter and reduce its efficiency.
Getting a brand new filter will ensure the appliance is running at the best efficiency.
3. What is the difference between air purifiers vs. humidifiers?
An air purifier is a device that takes in dirty, polluted air from the room and cleans it by trapping pollutants inside of filter media.
A humidifier increases humidity levels within a space, adding moisture to the air and helping reduce congestion.
4. Are expensive air purifiers worth it?
The most expensive air purifiers do not necessarily translate to the best air purifiers.
More expensive air purifiers have features that you may not need, such as the air particle counter, the ability to circulate large volumes of air, or even built-in pink noise machines.
The most important thing to consider is if you need the feature, as cheaper air purifiers can work as well as any other air purifiers.
Just remember to consider the ongoing operating costs when replacing the filter.