Having coccyx or tailbone pain is a literal pain in the butt! Thankfully, there are pillows out there, such as the coccyx cushion, made of high-density memory foam specifically designed to provide tailbone pressure relief.
The coccyx (a.k.a tailbone) is a triangular bone at the bottom of the spine. It's often injured by falls or childbirth and can cause pain in your lower back, hips, and buttocks.
Utilizing a coccyx cushion provides additional comfort and enhances your sitting posture by elevating the hips and taking pressure off your coccyx.
What's more, it allows prolonged sitting in just about any chair by getting rid of the stress on your coccyx bone.
Another great perk of these small and easy-to-carry coccyx pillows is that you can use them anywhere in your car, office, or even the chair at home.
Best Coccyx Cushion Reviewed
What is a Coccyx Cushion?
A coccyx cushion, or coccyx pillows, usually comes in either an O or U shape. Most cushions are made of high-density foam, but some variations integrate cooling gel to remove body heat while relieving tailbone pain.
Since coccyx pillows are designed to be used on chairs, they usually come with a non-slip rubber bottom to prevent the chair cushion from slipping while using them.
Besides relieving pressure from your tailbone, these cushions promote healthy posture, allowing better blood flow through proper spine alignment.
Even if you have no injuries, you can benefit from these seat cushions as they can help with back pain and encourage you to sit in a proper posture.
Which Coccyx Cushion Shape Is The Best?
Coccyx cushions are available in many shapes, but the main ones are in a U-Shape or O-shape. This article will primarily review the U-shape coccyx cushions as they are the best for coccyx and tailbone pain.
U Shape Coccyx Cushion
A U-shaped coccyx cushion is one of the most popular choices on the market today. It is the best coccyx pillow for coccyx pain or providing back pain relief from prolonged sitting in front of a desk.
This U-shaped pillow is superb at allowing respite for your coccyx and spine while still offering great support for the rest of your body.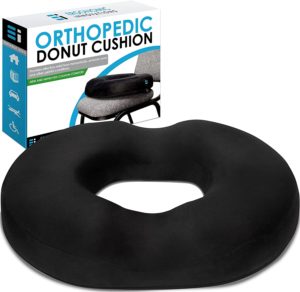 O-shape Donut Pillow
An O-shaped coccyx cushion, a.k.a donut pillows, is circular and has a hole in the middle. These cushions are more suitable for taking pressure off the butt area and can be used for hemorrhoid pain or postnatal pain relief.
For donut pillows, check out the best pillow for hemorrhoids review.
Best Coccyx Cushion To Relieve Coccyx, Sciatica, and Tailbone Pain
If you are suffering from tailbone pain, opt for one of these for the best coccyx cushion for maximum relief:
1. ComfiLife Gel Enhanced Seat Cushion
Check Latest PriceThis ComfiLife Gel Enhanced Seat Cushion boasts itself as one of the best gel-infused memory seat cushions. This is tough, durable, and offers long-lasting relief that is cut above the other products.
Sitting on an office chair all day introduces pressure or stress on the neck, hips, and back; this one is an effective solution for all types of pain.
It has a U-shaped cutout that is highly recommended by doctors to help ease the pressure and supports correct spinal alignment.
The state-of-the-art heat-responsive system adapts to the body to increase the comfort level. At the same time, the rubber texture on the bottom helps prevent slipping and stays in place without needing to constantly adjust its placement.
Furthermore, the machine-washable velour cover comes with a small carry handle for ultimate portability, so you can be comfortable anywhere.
If you're not pleased or satisfied with this memory foam seat cushion, the company provides a lifetime money-back guarantee.
2. Ziraki Seat Cushion
Check Latest PriceIf you feel sore or stiff after sitting, or if your experience inflamed or bruised tailbone, back, or coccyx pain, you can enjoy respite with the help of this quality yet affordable coccyx cushion.
This Ziraki memory foam cushion helps with most sitting pain, including sciatica, tailbone injuries, back pain, and other spinal problems.
Available in a U-shaped cutout design, this seat cushion provides relief while correcting body posture and helps in improving blood circulation while seated.
This memory foam pillow made of 100% memory foam has a firmness that changes with temperature; The cushion will feel softer in a warm setting and firmer in a cold setting.
You can easily take this portable seat cushion anywhere you want, whether you're on vacation or using it when you're at the desk using your computer.
With its removable cover, you can put it in a washing machine for quick and easy cleaning.
If you do not love this memory foam cushion, you can ask for reimbursement or a refund.
Best Coccyx Cushion For Heavy Person
3. BAEL WELLNESS Coccyx Seat Cushion
Check Latest PriceThe BAEL Coccyx Seat Cushion is made of memory foam that provides firm support while molding to the shape of your body. The foam material is also thermosensitive and can adjust to your temperature.
With this cushion, you get the perfect combination of firmness and shape-ability, and it is one of the best coccyx cushions that supports a heavy person without losing its shape.
The BAEL Coccyx Seat Cushion is made in a cylindrical design to correct your posture, relieving back pain, sciatica pain & coccyx pain. It has an anti-sliding rubber bottom that can be used for any seat without moving around or sliding down while using it.
If you're looking for quality, look no further than this cushion! The memory foam material will hold up well over time, providing years of comfort.
4. Aylio Socket Seat – Memory Foam Butt Relief Cushion
Check Latest PriceAylio Socket Seat Cushion features a design with a specially designed hole to fit over your tailbone.
The two-hole design allows your sit bone (ischial tuberosity) to fit nicely into the pillow, elevating your buttocks from hard surfaces.
The memory foam cushion provides pressure relief and comfort for your tailbone.The 3D spacer mesh makes the cushion provides support for your back, hips, and thighs while having good airflow.
With a 100 day trial period and returns for change of mind policy, this product has been created to provide top-of-the-market quality for customers.
The Aylio Butt Seat is suitable for people weighing up to 250 pounds.
Best Coccyx Cushion For Office Chairs & Working From Home
5. OVEYNERSIN Seat Cushion – Coccyx Orthopedic Pad
Check Latest PriceThis U-shaped memory foam seat cushion from Oveynersin uses state-of-the-art memory foam. This seat cushion offers superb support to your body's curve while retaining its original form after each use.
It comes with a unique 'Honey Vent Design' that is hollow at the tailbone area, so there will be no agitation on your coccyx when seated.
This provides amazing comfort while providing support on your buttocks.
This cushion is specially designed with non-slip rubber to fit most office chairs and is a great addition to people who sit for long hours in front of a computer.
With the sleek black or gray option, the Overnersin seat cushion will not look out of place no matter where you are. The removable cover comes with a handle for ease of carrying.
6. Helishy Gel Seat Cushion
Check Latest PriceThe Helishy Gel Seat Cushion is another great option for remote workers working from home.
This seat cushion is made of over 500 honeycomb structures. This means that the cushion repels heat and will not release it back to your backside.
The Helishy seat cushion is perfect for long hours on your computer desk. When used with an office chair, the cooling gel chair cushion molds to your buttocks without losing firm support all day long.
Since it is lightweight and foldable, the cushion can fit any office chair, meaning you don't have to purchase another seat just for your comfort!
What's great about the Helishy Gel Seat Cushion is that removing the washable cover is easy with a zipper. You can use the washing machine for hassle-free washing.
Best Coccyx Cushion for Driving and Car Seats
7. Everlasting Comfort Seat Tailbone Cushion
Check Latest PriceThe Everlasting Comfort Tailbone Cushion is the best seat cushion for use in cars and trucks.
This product is orthopedically designed to relieve back pain and comfort your lower back, thighs, waists, and hips.
Combined with the U-shaped cutout suspending the tailbone, it is a great way to sit while working or driving.
These seat cushions fill in the gaps between your body and the car seat, which reduces pressure off your spine and back pain.
The non-slip bottom is ergonomically designed and keeps the cushion from moving around while driving or working. The 3" thick cushion also acts as a seat riser to raise your field of vision while driving.
The soft and machine washable cover have a non-slip bottom base, which stays firmly in all seats and can even be used on harder surfaces like stadium chairs and airline seats.
Last but not least, the Everlasting Comfort seat Cushion offers a generous lifetime replacement guarantee.
8. TravelMate Gel-Enhanced Memory Foam Seat Cushion
Check Latest PriceThe TravelMate Gel-Enhanced Memory Foam Seat Cushion is perfect for office chairs and car seats.
It helps relieve tailbone pain and reduces pressure on the hip and coccyx.
This seat cushion is high-quality all around as it features a silicone-coated, non-slip cover that is removable and machine washable.
The other quality feature of this product is that it contains a cooling gel/memory foam seat that improves spine alignment and promotes healthy posture.
It can also be used in cars, planes, wheelchairs, etc., to provide better support for your back.
Do Coccyx Cushions Work for Tailbone Relief?
Coccyx cushions work very well at taking stress off the coccyx and the lower back while still aligning and supporting the rest of your spine.
The best coccyx cushions are made of soft cover material and high-density memory foam that contours to your buttocks, providing exceptional tailbone support.
The memory foam enables it to expand and decompress, which can be a good relief if opposed to sitting on a hard, flat surface such as a plastic chair all day which causes extra pressure on our spine.

What are the benefits of using Coccyx Pillows or Cushion?
There are many benefits of using these seat cushions, including:
1. Tailbone pain relief
Perhaps the most common benefit and the reason why you must buy a coccyx cushion is for tailbone pain relief.
A unique coccyx cushion has a cutout right where your tailbone sits so that it can hang in the air without pressure. If you are suffering tailbone pain, you should sit on a coccyx cushion that will help you get prolonged comfort sitting.
2. Lower back pain relief
A slight slant is built into coccyx cushions by design to encourage your body to lean forward a little, assisting your spine in achieving proper alignment and taking pressure off your lower back. The padding or cushioning also assists in easing lower back pressure and back pain relief.
3. Enhanced body posture
A coccyx cushion forces your spine into a standing position that will assist lessen slouching and encourage better posture all through the day.
4. Post-childbirth and injury recovery
After childbirth, or if you suffer from a tailbone injury, it can be painful sitting in a chair. A coccyx cushion assists in supporting your pelvis to relieve pressure off your tailbone.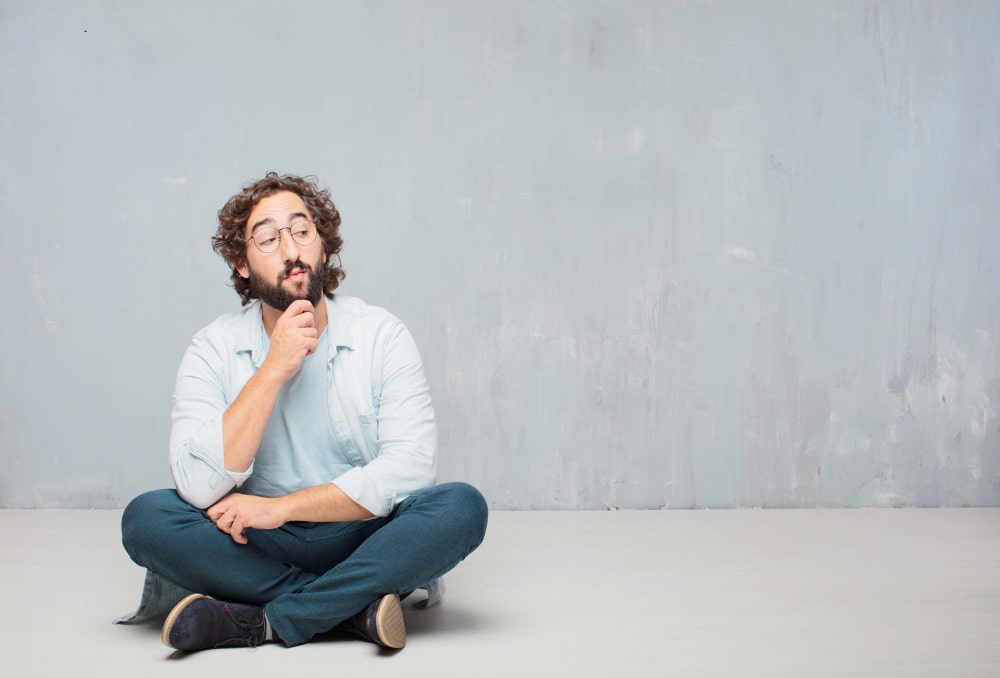 What are the Factors to Consider When Buying a Coccyx Cushion?
There are many factors that you need to consider to find the best coccyx cushion available. Some of these factors are as follows:
1. Design or Style
Coccyx cushions come with an ergonomic cutout. This assists in reducing the force on the spine and tailbone. This coccyx cushion assists ease the ache in those parts of your body while seating. The best cushion elevates the hips and will assist in improving the posture.
2. Materials
Purchasing a pillow or coccyx cushion that is made of the best materials really makes a difference.
All the coccyx cushions reviewed in this article are made of pure memory foam that will keep its thickness after every use.
Memory foam cushions provide ergonomic support, which adapts to your body and comfortably holds the part of the body it supports.
3. Size or Dimension
Depending on your body size, the size and measurements of the pillow play a vital role. Bigger people will need a bigger pillow.
If used as a seat cushion for driving, look for one that fits the width of your car seat.
The standard size for the best seat cushions is roughly around 17.5 by 13.7 by 3 inches. This size fits most office chairs.
4. Gel
A seat cushion can have a gel layer located at the top of the foam base. The layer offers optimal pressure relief because the gels shift to support weight and ease the soreness in your body.
Besides, gel-infused memory foam can help you become more comfortable and cooler by dissipating heat and controlling the body temperature.
5. Non-Slip Cover Base
All the cushions reviewed in this guide come with a non-slip base that keeps them firmly in place and avoids the need to constantly readjust the position of the cushion.
6. Breathability
Some coccyx cushions make use of state-of-the-art ventilated memory foam. These are designed with tactically placed holes to improve cooling and comfort.
It enables the user to sit comfortably without feeling sweaty and hot by having constant airflow that wicks away moisture and heat.
7. Cushion Cover
Having a coccyx cushion with a detachable cover is important to keep the cushion clean and hygienic. This will make cleaning easier for you.
Conclusion
Talking about coccyx cushions or pillows, thicker does not mean better and appropriate. Coccyx cushions that adjust to your condition or taste are the best.
While many coccyx cushions available today can be utilized in an array of chairs and settings, outdoors to indoors and in cars, it was stated on top of this guide that some works are better than others.
We have come to understand the different conditions and pains which can come up because of a wrong sitting position or extended sitting.
The best coccyx cushion will support and assist ease pain in your spine and tailbone area. It faintly raises your hips that help correct your stance while seated.
FAQs
How do you sit with tailbone pain without a coccyx cushion?
If you are experiencing tailbone pain, we highly recommend getting a coccyx cushion as soon as possible. While waiting, you can try to minimize pain by leaning slightly forward in your seat. This will alleviate some pressure off your tailbone.
When will I feel better from using this cushion?
It varies depending on each person's experience, but typically, you will get instant relief from the cushion. Some memory foams are stiff and may take a couple of days to break into.
How to sleep with tailbone pain?
Try sleeping on your side, so the tailbone is not in contact with the mattress when lying down.
You have to relieve the pressure off your lower back and tailbone, and this can be done by placing a pillow between your knees or using a knee pillow to get a restful night's sleep.