Ever wondered about the material the mattress you slept on was made of? What should be the best mattress for you?
The different kinds and types range from the very basic to more high-tech, cutting-edge versions. Some people like a firm surface while others prefer something softer—and there are mattresses out there that can accommodate both preferences.
There are also many different materials used, with varying durability and resiliency levels. The first thing to consider is what mattress works best for your personal needs
This article explores all the different kinds of mattresses available in the market and how they can help you sleep better.
Common Mattress Sizing Chart
| | | |
| --- | --- | --- |
| Size | Dimensions (cm) | Dimensions (inches) |
| Twin | 96.5 x 190.5 cm | 38 x 75 inches |
| Twin XL | 96.5 x 203.2 cm | 38 x 80 inches |
| Full | 137.2 x 188 cm | 54 x 74 inches |
| Queen | 152.4 x 203.2 cm | 60 x 80 inches |
| King | 193 x 203.2 cm | 76 x 80 inches |
| California King | 182.9 x 213.4 cm | 72 x 84 inches |
What are the common types of mattresses?
There are three types of mattresses commonly available: memory foam, latex & Innerspring mattress. Each type has its own pros and cons depending on individual preference and budget requirements which will be discussed below.
The information here should be a guide before making a purchase decision, so one wouldn't have any regrets afterward!

1. Coil Spring/Innerspring mattress
The simplest type is known as an "innerspring mattress" that has been around since the early 1800s. They typically contain about 100 coils inside because each coil helps to provide support as well as bounce.
Innerspring mattresses are firmer than memory foam, and their coils can also help prevent sagging over time—but the comfort level doesn't quite compare because of this extra firmness factor.
These usually come with a thin layer of cushioning material, but it is mostly used for protecting the coil system from moisture damage (since they cannot really absorb liquid). As such, some people find that an innerspring mattress feels "harder" than other types out there!
A good thing about them is that they tend to last longer since there aren't any layers or components that may wear down easily, like memory foam.
They're also lighter and easier to move, making them a popular choice for many people who need quick and easy mobility while going in between different rooms.
One downside of an innerspring mattress is that it may disturb other people sleeping around you since the coils move and create bed bounce as one turns or adjusts positions.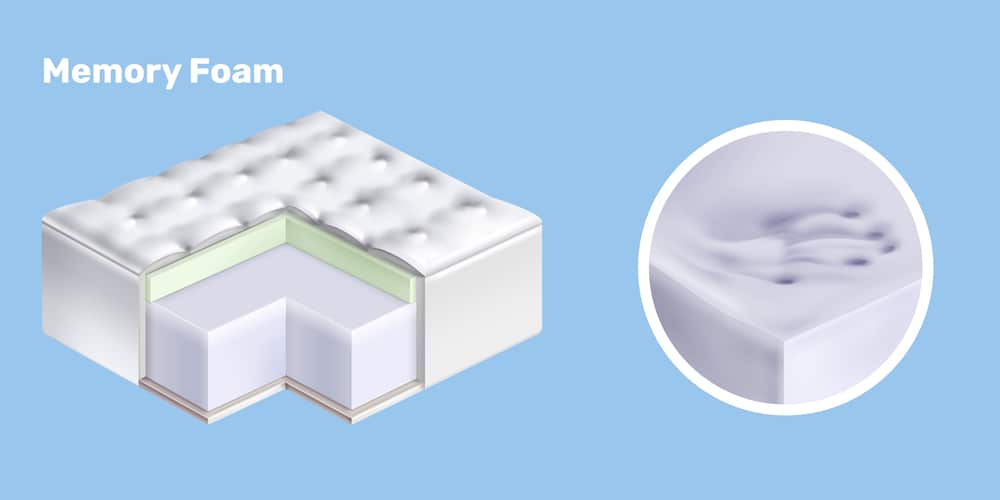 2. Memory foam mattress
Another popular bed type is the memory foam mattresses, which were initially introduced in 1966 by NASA to help astronauts better handle reentry into Earth's atmosphere!
Memory foam helps distribute body weight evenly across the surface, thus resulting in fewer pressure points along with improved blood flow—this means no more waking up from uncomfortable aches and pains.
Because memory foam has little give, though, they tend to be a bit firmer than other types and may not be as good for those who like sleeping "sinking" into their mattress.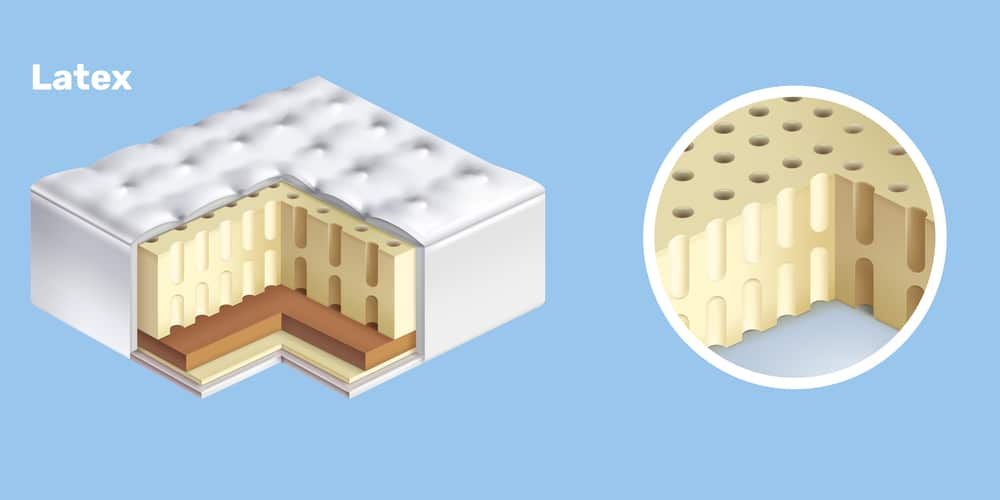 3. Latex foam mattress
Another type of mattress is made from latex foam, which can be quite similar to memory foam in its firmness factor. Latex, however, also has a high level of elasticity—this means that it can provide extra support for your body while at the same time being extremely bouncy
It's great if you're looking for something with medium-hard firmness or want some bounce without any harsh pressure points waking up throughout the night.
At the same time, latex tends to have less resistance than other types, so you may find yourself "bottoming out" on its surface more easily when sleeping.
You'll also need deeper pocket sheets that are made specifically for this material. Otherwise, they may end up slipping and bunching a lot.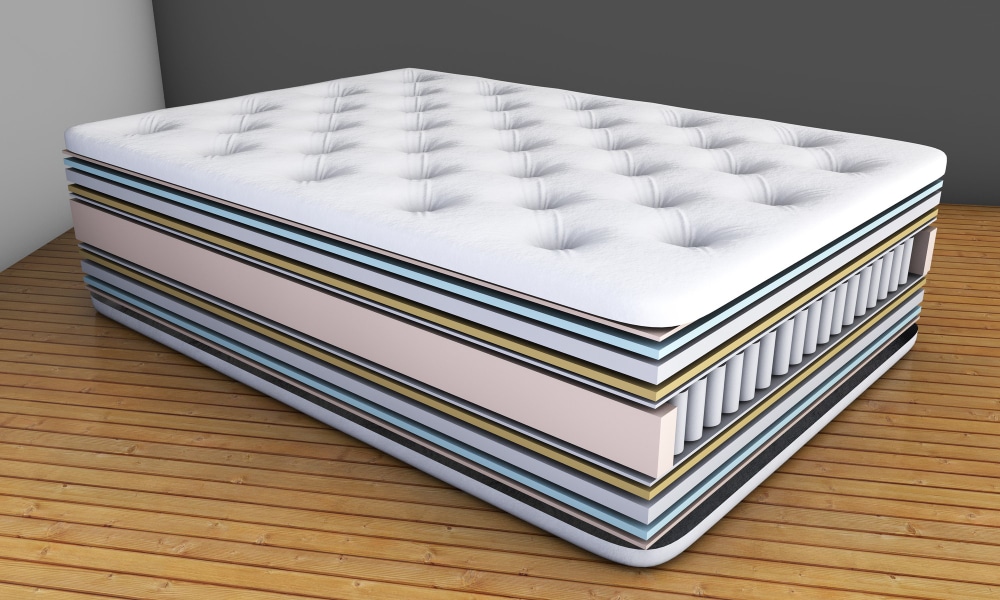 4. Hybrid mattresses
Lastly, "hybrid mattresses" combine memory foam with either innerspring or latex to provide a unique experience.
One popular example is the combination of latex and memory foam, where each material works together for improved comfort levels while at the same time providing extra support as well!
Some hybrids might even mix cotton and gel into their materials—this makes them cooler than other types out there since it can help wick excess heat away from your body.
What to look for when buying a mattress?
Material & Support
As mentioned above,  the most important feature to check out when buying a mattress will be its material.
The mattress material correlates to the support you will get when sleeping on it, so look carefully at the different properties that each type offers.
Do you need something extremely bouncy? Or are you looking for a mattress with more resistance instead to provide extra support when sleeping?
While latex might give you both, memory foam is definitely better if all you care about is firmness and comfort!
Packaging size and delivery
Mattresses can sometimes come in really huge sizes even though most bedrooms only require single or twin-sized ones. You should always check out how big these things will actually get before buying them online because otherwise, they may not fit into your home once they arrive at the store.
Many modern mattress companies sell mattress-in-a-box, which are mattresses vacuum-packed and compressed into a relatively smaller box. This makes deliveries to small apartments and houses a hassle-free experience.
The downside of buying mattress-in-a-box is that they are often much more expensive than other types and takes a day or two to fully unroll and expand before it's ready for use.
Warranty & return policy
Last but not least, don't forget about warranty and return policies since these will usually determine whether or not you can get a full refund if something goes wrong with your order later down the line.
Keep in mind that this is mostly applicable for online stores rather than physical shops because of their limited inventory space. For example, after discovering the mattress you bought that doesn't fit your home, after all, it might be difficult to return or exchange them.
Remember: mattresses are big investments, so don't rush down the aisle without being well-informed first!
Best mattress types for front, side, and back sleepers
Front sleepers
Innerspring mattresses are good options for front sleepers because of their bounce that prevents you from sinking too much into them while at the same time providing excellent support.
Side sleepers
Latex or memory foam mattresses are great choices for side sleepers because they conform to the body's natural curves, resulting in less pressure on your shoulders and hips.
Back sleepers
Back sleepers should opt for memory foam or latex instead since these materials will give extra contour without putting too much weight on their back, resulting in neck pain or back pain later down the line.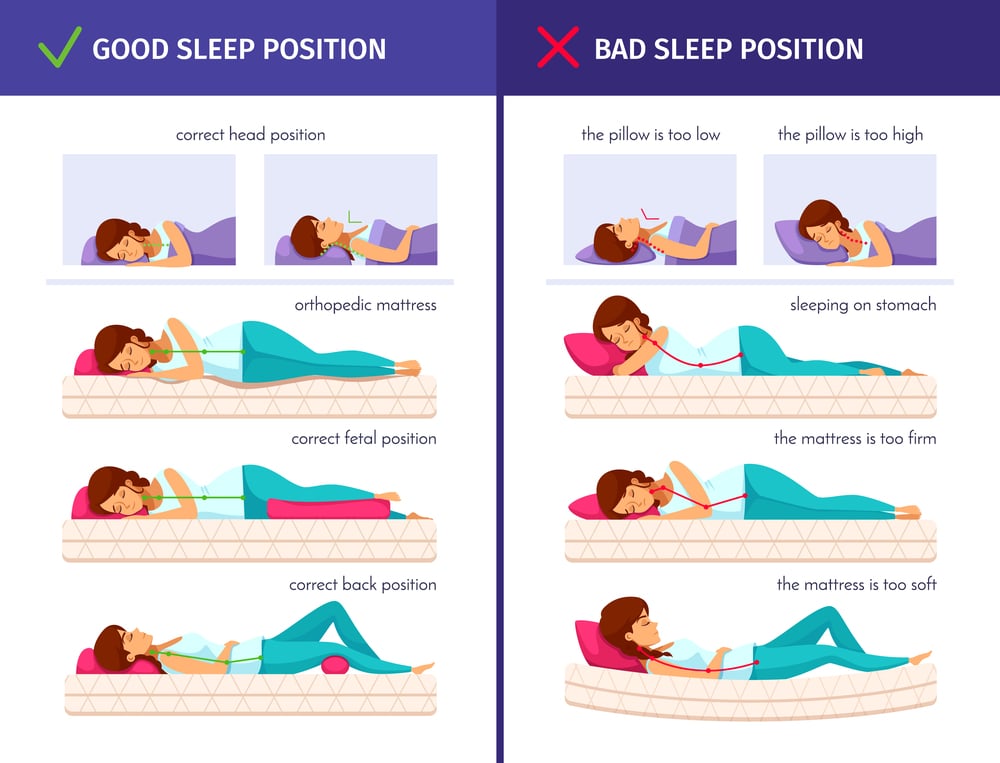 How mattress firmness can affect your spinal alignment
What kind of mattress is right for me?
All these facts will depend on an individual's preference and budget requirements. Still, memory foam mattresses are the most popular choice today, with latex being the second most popular choice.
Innerspring comes last because they tend to be more expensive than other types while also making noise when moving around or adjusting positions at night.
They're not too bad if you have no one sleeping nearby, though, so it really depends on who will use it!
Hybrid mattresses, meanwhile, can be a great choice for those who don't want to spend too much on an innerspring mattress but still need that bounciness and support.
They also tend to provide better temperature regulation than other types, so it's good if you often find yourself feeling too warm or cold throughout the night as well!
Just remember, though—the best bed is one which fits your personal preference rather than what someone else thinks is "best" for you.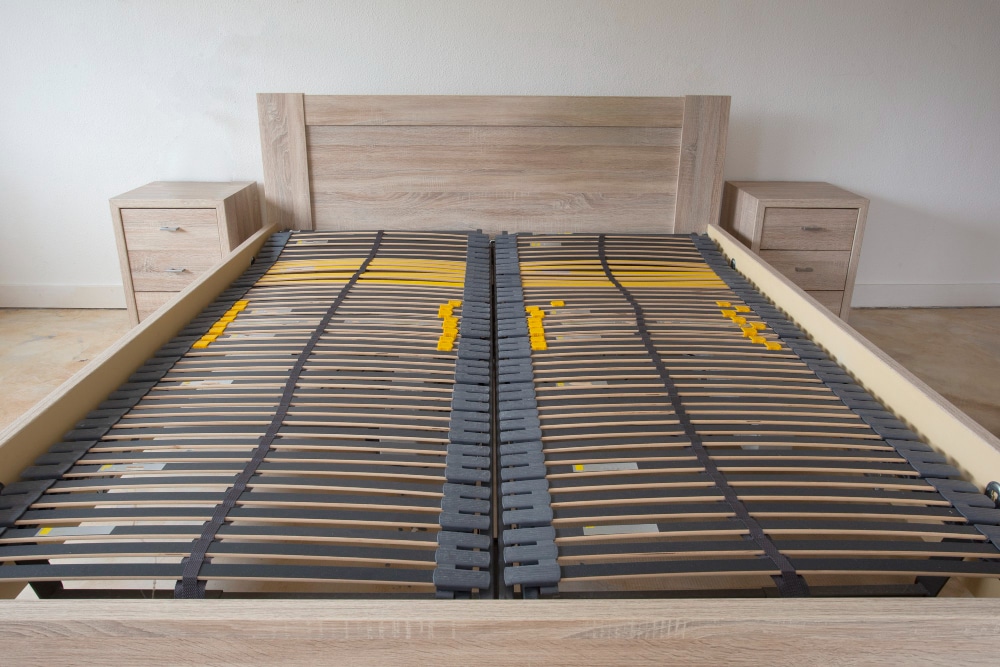 What types of bed frames are there?
Now that we have covered the mattresses, the next item on our list is the bed frames.
There are two common ways to elevate your mattress above the floor; slat beds or box springs
A slat bed consists of a simple frame and a bunch of wooden slats to create the platform for the mattress.
They are so popular because of the low cost, and it's pretty straightforward to put together–you can't really go wrong there!
These types of beds also provide excellent ventilation and might be a better option if you need extra sleeping space for guests, as they are easily disassembled when not used.
Keep in mind that wooden slats will usually sag over time, so it's important to check each corner every once in a while to see how much wear has been done, replacing any broken ones as soon as possible!
On the other hand, Boxspring beds are a bit more expensive, but they provide excellent support and feel luxurious because of their appearance–they're usually made from wood or metal.
Many box springs also come with caster wheels which make them easier to transport around your home if you ever need to move somewhere else in the future.
Are there other types of mattresses?
Yes! There are many different mattresses that are used for different purposes. Some of them include:
Inflatable mattress
These are great for camping trips and places where you can't exactly bring a full-sized mattress with you, as it is easily deflated and stored in its original box once not needed anymore.
They are also ideal for the guest room, so you can provide your guests with a comfortable place to sleep, and it does not take up too much space in your room.
Be warned that inflatable mattresses might feel quite different from regular mattresses because they don't offer the same level of cushioning or support. The thin material also means it is prone to punctures from sharp objects.
Water bed
This is like an inflatable mattress, but it's filled with water, which allows you to adjust the firmness by either adding or draining more liquid.
They might sound quite odd at first, but they are actually very effective for people who suffer from chronic pain because the lack of pressure on joints and muscles will give your body a chance to heal itself over time!
Futon mattress
These are very common in Japan, and they're basically a mattress filled with cotton batting. This futon mattress can help you transition into sleeping on the floor for better spinal health.
They might not be as comfortable compared to regular mattresses, but the good thing about them is that they can be folded, which means you can easily store them away if need be!
Thai Triangle Pillow
Thai Triangle Pillows are similar to Japanese Futon mattresses, where you use them to lay on the floor with a cushion. The big difference between these and the futon mattresses is that these are usually foldable in 3 sections.

What about bedsheets?
With all the different types of sheets out there, it can be quite overwhelming for many people, but the truth is, most come with very similar features. The same rules from choosing a pillow cover apply to bed sheets.
One thing you might find useful to keep in mind as a newcomer to this world would be thread count; generally speaking, the higher the number, the more durable and comfortable they feel on your skin.
Another important factor here is material–cotton or Egyptian cotton will usually provide optimal comfort while at the same time being highly breathable, which prevents heat from building up inside your bed!
Bamboo sheets are also a great option, especially if you're prone to having allergies because these materials are hypoallergenic.
The last feature worth mentioning would be color,  which will usually come down to personal preference–gray sheets look very modern and elegant, while white is the go-to choice for people who want their room to be as bright and airy as possible!
Conclusion
Mattresses are an essential purchase for any home. Whether you're looking to buy one or sell your old mattress, this guide should provide some helpful tips on finding the best product for your needs and lifestyle. There's a lot of information here, so be sure to bookmark it for future reference!
Frequently Asked Questions
How long do mattresses last?
Mattress lifespans range between five years up until ten years, depending on factors such as climate conditions, usage levels, and whether or not you flip or rotate them regularly.
Keep in mind that this estimate is for the average mattress lifespan, and there might be some mattresses that last longer than ten years while others might require replacement within five – it all comes down to build quality and usage, so be sure to invest in one that will last for years!
When should I replace my mattress?
Your mattress will usually last from five to ten years, but certain signs might indicate it's time for a replacement.
A first indicator is a memory foam or latex change in firmness – if you notice your bed feels either softer or firmer than before, it might be a sign of wear and tear!
Another thing to look out for would be any sagging, as this could indicate an issue with the springs, which won't hold up over time anymore.
How can I sleep more restfully?
Once you have bought a well-fitting pillow and a mattress that suits your sleeping style, you should start looking into improving other factors such as your sleep environment, room temperature, lighting, etc.
These are all things that can affect the quality of your sleep, so if you're struggling to find rest, be sure to check out our other articles on this topic!